Bristol's felt roofing experts
If your felt roof needs repairing or replacing, then we have all the answers. We'll ensure your home is protected from rain and damp. You should choose felt roofing because it's:
Inexpensive and cost effective
Strong, durable material
Can withstand foot traffic
Can be used on any type of roof
Materials are widely available
Impermeable to the weather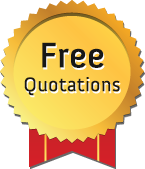 Our roofing experts will be happy to visit your home to offer a free, no obligation estimate on felt roof work you require. All our prices are affordable, and our work is carried out with speed and efficiency.
From the construction of entire new felt roofs to just a simple patch repair job, we can tailor every project to your exact specifications wherever you are in Bristol. Ring us on 0117 345 9390 without delay.
Trustworthy local roofers
When you choose us to fit or repair your felt roof, you can be sure to get:
Service anywhere in the BS postcode area

A free estimate from our friendly team
More than 25 years roofing experience
Extensive guarantees for peace of mind
Competitive and affordable pricing
A reliable and trusted service
You will be delighted with the results of your new felt roof or felt roof repairs, and will even be recommending us to your friends!